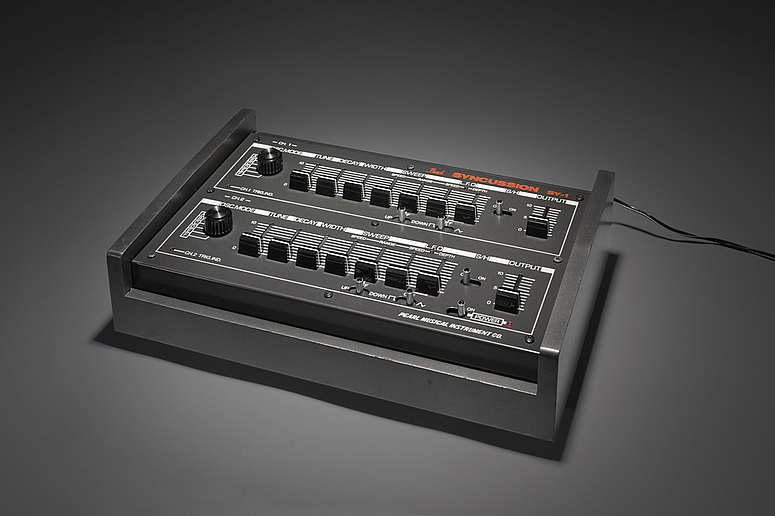 Pearl Syncussion SY-1
Drum synthesiser in a class of its own

Pearl's Syncussion SY-1 is one of the masterpieces of this Japanese manufacturer of drum hardware as it creates some fantastic sounds while employing baffling ease of use. This unit takes the ideas and concepts a step further which were introduced by previous designs like the drum synthesisers by Star Instruments (Synare 1 and 2) or Pollard (Syndrum). While Simmons' famous electronic drum-system SDS-V was to replace an acoustic drum-kit as a whole, the Syncussion was designed to be used with a traditional drum-kit.
Sound Generation
There are two channels available which mirror each other in terms of parameters available: There are six oscillator modes (drawing from either one single oscillator, four different arrangements of blended oscillators, or noise), Tune controls (for pitch and filter frequency), Decay, and Width controls (for setting the filter bandwidth), Sweep (pitch envelope with selectable positive or negative sweep), an LFO (triangular and rectangular wave), and – last but not least – Sample/Hold (for random modulation).

Sound
The SY-1 produces a vast range of fantastic-sounding electronic percussion: Punchy kick-drums, massive toms as well as experimental and futuristic sounds are instantly available. For some decent snare-type sounds in true TR-808 fashion, both channels should be triggered simultaneously, combining Osc. Mode A (oscillator puts out a triangular wave) with Osc. Mode F (noise).
Due to its relatively low output level, using an additional preamp for boosting the signal seems to be recommended.

Connectors
The two channels available are triggered independently from each other using a trigger or audio signal; by means of a MIDI-to-trigger converter, the device can be tied into a MIDI setup. Controlling pitch by means of an external pedal is also possible.

Manufacturing start: 1979
Weight (with/without case): 5/2,5 kg
1 Day

40 €

2 Days

60 €

Weekend
(Fr-Mo)

80 €