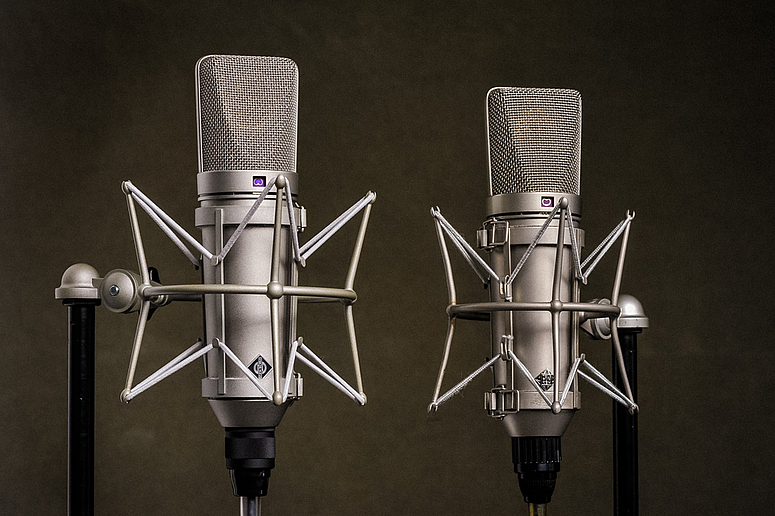 Test and buy the Neumann U67 at Echoschall!
With the new edition of the U67, the Neumann company has reintroduced one of the best microphones of all time into its program. It is probably the most versatile representative among the large, classic tube microphones.
Echoschall is the only authorized dealer where you can test the reissue against a vintage copy of this extraordinary microphone. In addition, we have current measurement records on site, so that the interested party can form a comprehensive picture. Since the Neumann U67 is a quality product of the highest order, we are including exclusively and free of charge a specially made wooden case that not only fits in any safe, but also fits exactly into the recess of the case provided.
The price of the Neumann U67 set including the additional wooden case is € 6.099,00 (incl. 19% VAT).
First released in 1960, the U67 has lent its sound signature to numerous successful productions. Just think of the piano on "A day in a life" by the Beatles, the electric guitar on "Sympathy for the devil" by the Rolling Stones or the vocals of Bob Dylan, Syd Barret (Pink Floyd), Kurt Cobain (Nirvana), Bob Marley up to Tina Turner's "What's love got to do with it". The list could be continued endlessly.
Its nearly straight frequency response, with only a slight treble boost, qualifies the Neumann U67 for universal use. Whether for vocals, overhead, winds, strings, piano or guitar amp: Excellent results are achieved everywhere with the Neumann U67. Basses always remain controlled, while highs appear soft and unobtrusive. Thanks to its nuanced midrange imaging, U67 tracks also prove to be assertive and can be optimally shaped via EQ. With a measured self-noise of 14 dB(A), it can also keep up with current models in technical terms.