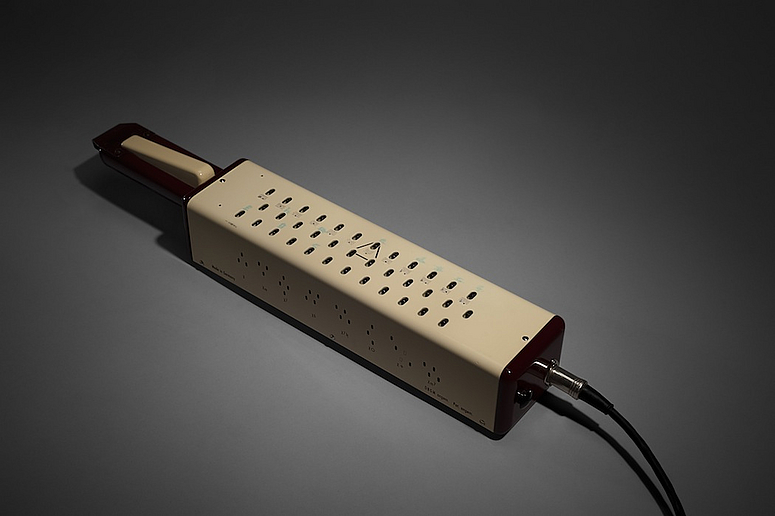 Hohner Guitaret
Truly exotic, and some extraordinary tone
As the world's formerly biggest manufacturer of musical instruments, Hohner not only made traditional musical instruments like harmonicas or accordions but also a series of highly innovative electronic musical instruments that had been developed by notable engineers and designers.
Among those pinnacles of invention there are – among other things – the Multimonica (c. 1940, designed by Harald Bode), the Electronium (c. 1952, designed by Rene Seybold) or the trail-blazing inventions of Ernst Zacharias, Hohner's long-time engineer. The latter is accountable for such legendary keyboard instruments as the Pianet (c. 1962), the even more legendary Clavinet (1964), and the Guitaret (c. 1963) that is available for rent from Echoschall.
The Guitaret is some kind of electric lamellophone since its tone and the way it is played resemble the African Kalimba – other than the way the player would buckle on the instrument, there are no further ties with the guitar, however.
Sound Generation
Tones are generated by fingers tapping or strumming metal tongues (or reeds) which are arranged in three rows of twelve reeds each. The instrument is designed to be used for eight different chords – the way they are arranged makes playing this instrument very easy. Chords are arranged like a circle of fifths (sharps to the left, flats to the right). The lever on the neck needs to be depressed when playing the instrument.

Three pick-ups are used for picking up the resonating reeds, and an output transformer that comes next in line routes the amplified signal to a three-pin output DIN jack. The Guitaret was designed to be used with an amplifier – if you want to run its output signal directly into the mixing desk, you will need to use a DI box.

Sound
Thanks to its melancholically romantic type of tone, the Guitaret is still very popular and lends itself to experimental music and avant-garde pop alike. In most of the cases, however, mainly single notes would be played, contrary to the Guitaret's original design.

In May 2013, a Guitaret album was released which features eleven compositions by six different artists. This album can be downloaded for free, and it gives you a nice idea of what the Guitaret can sound like. A regular user of the guitaret is the singer Ganna Gryniva.

manufacturing period: 1963-1966
weight (with/without bag): 1,5/1 kg
1 Day

35 €

2 Days

53 €

Weekend
(Fr-Mo)

70 €